(TRINIDAD EXPRESS) – Locusts have descended on the community of Mendez Trace, Penal and residents are pleading for help.
Councillor for the area Diptee Ramnath said this has been occurring for some years now, but recently the swarms have become more frequent.
He said when one area is sprayed, the locusts moved on, then return. Ramnath said the locusts has become a menace to farmers destroying many crops.
Agriculture Minister Clarence Rambharat was made aware of the matter and told residents that he has passed the complaint to the Chief Technical Officers for the South West branch of the ministry dealing with this. Rambharat gave the assurance that spraying will take place.
Workers at the Ministry of Agriculture have been aggressively spraying various districts afflicted with locusts throughout the country.
The most hard hit areas were Piparo, St Mary's Tabaquite , Mayo, New Grant, Princes Town, Mantacool, Tableland, Penal Rock Road, Tortuga, Mammoral, Barrackpore, Moruga, Esmeralda, Carapo, Williamsville, Gran Couva, Cachipe, Indian Trail, Edward Trace and Watts Road. However, as far as some areas in Point Fortin has had the presence of locusts.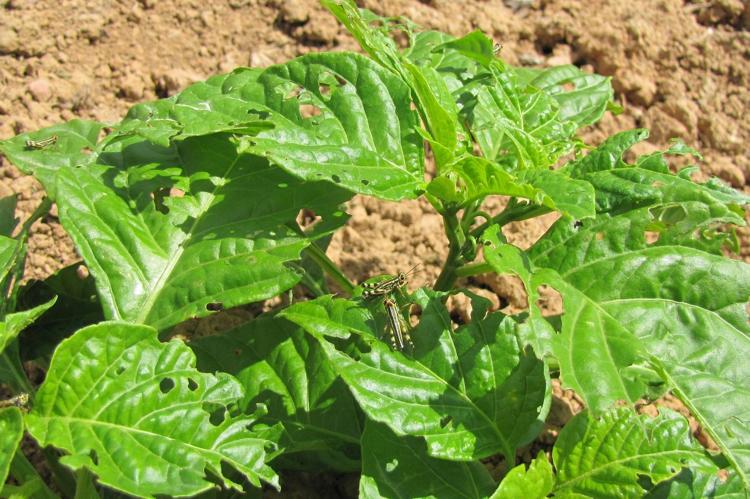 An official from the Ministry who spoke with the Express said the locusts were not a threat to the residents and was more of a nuisance.
The official added that the best time to eradicate the nests was in November just after the mating period, when the eggs are laid.
The other is the Moruga locust which is smaller in size, has larger swarms and is more destructive.
Propoxur is the main insecticide used for the locust spraying exercises.
Employees have also conducted an education awareness drive with the aim of education residents and farmers about locusts and how to treat with it.