BBC –  Protests are being staged at Amazon buildings in the UK, US, and Europe – on Black Friday.
The shopping sales day is among Amazon's busiest all year.
An international coalition of unions, equality and environmental groups called "Make Amazon Pay" is staging a day of action.
The movement is demanding Amazon make changes to its business, including improved pay, an end to employee surveillance, and union engagement.
In an unrelated separate protest, the Extinction Rebellion environmental group has blocked the entrances to Amazon distribution centres in the UK.
It is staging similar action abroad in Germany and Netherlands.
'Make Amazon Pay'
The Make Amazon Pay coalition is not affiliated with Extinction Rebellion group, but also has environmental groups such as Greenpeace among its members.
"Amazon takes too much and gives back too little," it claims – backed by trade unions, grassroots campaigns and non-profit-making organisations in individual countries.
In the UK, that includes:
the GMB Union
Trades Union Congress
Momentum
War on Want
International Transport Workers' Federation
Labour Behind the Label
Many employees will be working on the day, but campaign groups which include Amazon workers are staging protests at Amazon buildings in Coalville, Leicestershire, Coventry, Peterborough and at its London headquarters.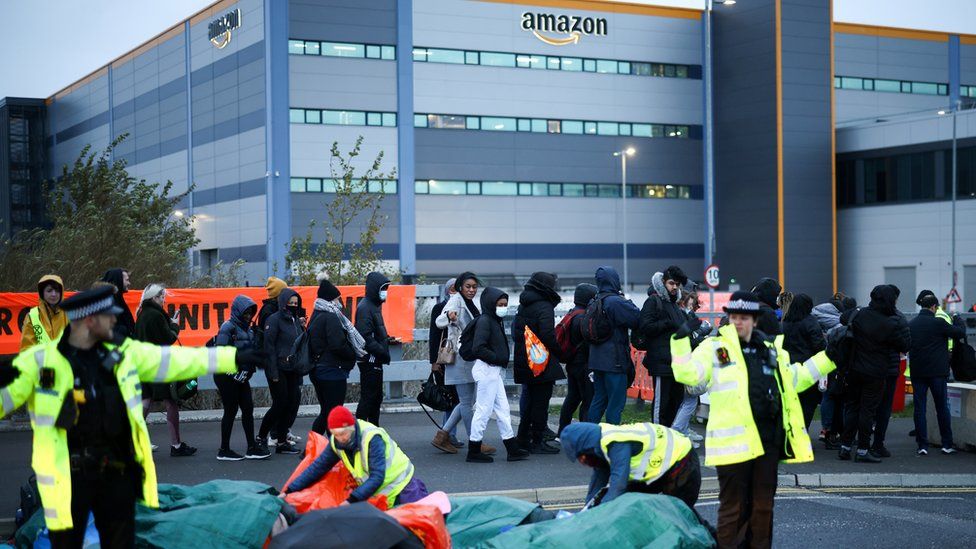 But strikes are being encouraged elsewhere.
raising warehouse workers' pay and adding hazard pay and peak time increments
halting worker "surveillance" and strict productivity targets
extending sick leave and improving Covid-19 tracking and reporting
ending casual employment status and "union-busting" activities
paying taxes without using loopholes or tax havens
Owen Espley, from the War on Want campaign group, said: "Amazon is abusing its dominance across online retail, cloud services, and logistics, to create unfair competition that is driving down standards for everyone.