(BBC) – Myanmar's military has seized power after detaining Aung San Suu Kyi and other democratically elected leaders.
Troops are patrolling streets in major cities and communications are limited. The top army commander is now in charge and a one-year state of emergency has been declared, army TV announced.
The move follows a landslide win by Ms Suu Kyi's party in an election which the army claims was marred by fraud.
She urged her supporters to "not accept this" and "protest against the coup".
In a letter written in preparation for her impending detention, she said the military's actions put the country back under dictatorship.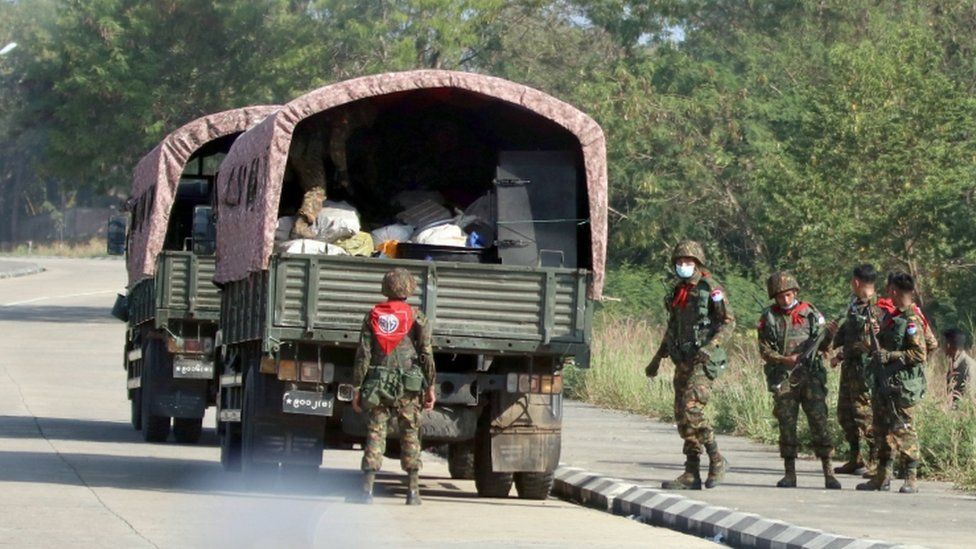 Myanmar, also known as Burma, was ruled by the armed forces until 2011, when democratic reforms spearheaded by Aung San Suu Kyi ended military rule.
She spent nearly 15 years in detention between 1989 and 2010. She was internationally hailed as a beacon of democracy and received the Nobel Peace Prize in 1991.
How did the coup unfold?
In the early hours of Monday the army's TV station said power had been handed over to commander-in-chief Min Aung Hlaing.
Ms Suu Kyi, President Win Myint and other leaders of the National League for Democracy (NLD) were arrested in a series of raids.
Soldiers blocked roads in the capital, Nay Pyi Taw, and the main city, Yangon. International and domestic TV channels, including the state broadcaster, went off air.
Internet and phone services have been disrupted. Banks said they had been forced to close and queues formed at cash machines.
One Yangon resident told Reuters news agency: "I don't know what is happening. I am a bit scared."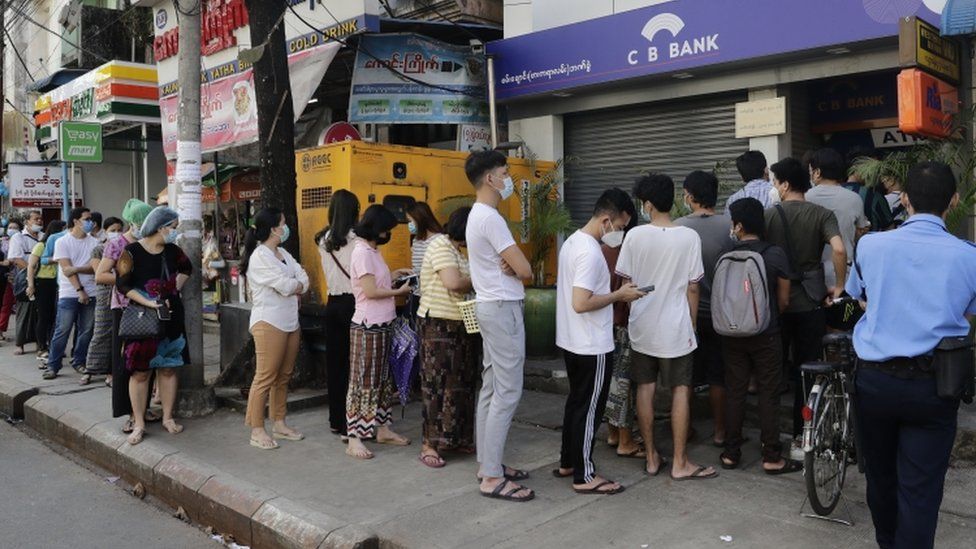 'Myanmar on a perilous path'

So it's official. The armed forces in Myanmar have confirmed that they have carried out a coup d'etat, their first against a civilian government since 1962, and in apparent violation of the constitution which the military promised to honour as recently as last Saturday.
The grievances which have been driving tension between the military and the government are well enough known. The military-backed party, the USDP, performed poorly in last November's general election, whereas the NLD did even better than in 2015.
The timing of this coup is also easily explained. This week the first session of parliament since the election was due to start, which would have enshrined the election result by approving the next government. That will no longer happen.
But the military's longer game plan is hard to fathom. What do they plan to do in the year they have given themselves to run the country? There will be public anger over a coup so soon after an election in which 70% of voters defied the Covid-19 pandemic to vote so overwhelmingly for Aung San Suu Kyi.
Famously stubborn, she is unlikely to co-operate with a gun held to her head. Her ally, President Win Myint, is the only person authorised under the constitution to enact a state of emergency. He has been detained with her.
For the moment the military's action appears reckless, and puts Myanmar on a perilous path.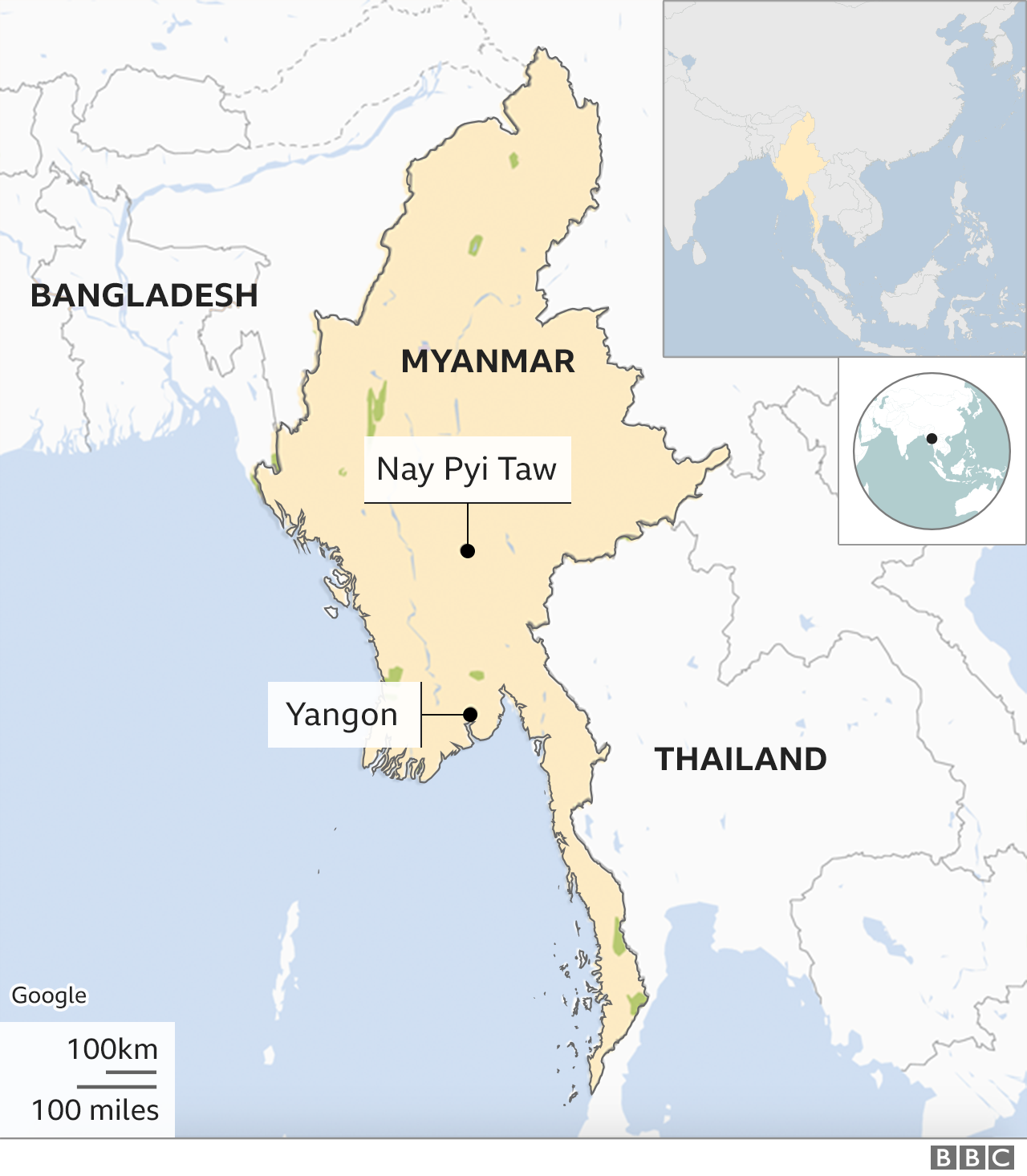 US Secretary of State Antony Blinken called for the release of all those detained and said the US "stands with the people of Burma in their aspirations for democracy".
Meanwhile, Australian Foreign Affairs Minister Marise Payne urged the Myanmar military "to respect the rule of law" and "release immediately all civilian leaders and other who have been detained unlawfully".
What happened during the November election?
The NLD won 83% of available seats in what many saw as a referendum on Ms Suu Kyi's civilian government.
It was just the second election since the end of military rule in 2011.
But the military said it had found millions of voting irregularities. The election commission has rejected those fraud claims.
The armed forces filed complaints to the Supreme Court against the president and the electoral commission.
Fears of a coup rose after the military recently threatened to "take action" over alleged fraud. It now says it will use its emergency powers to organise a new vote.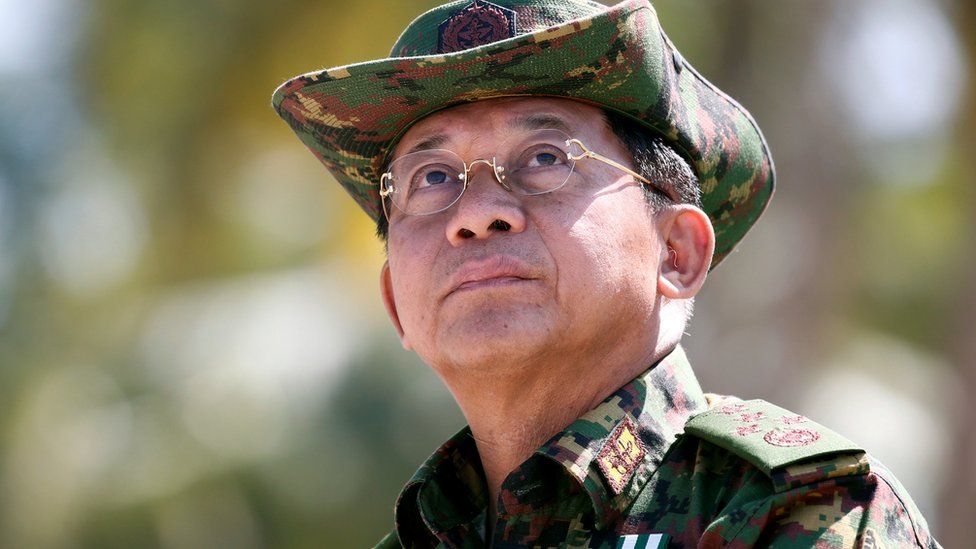 Who is Aung San Suu Kyi?
Aung San Suu Kyi is the daughter of Myanmar's independence hero, General Aung San who was assassinated just before the country gained independence from British colonial rule in 1948.
She remained popular with the public despite spending years under house arrest.
She was released in 2010, and in November 2015 she led the NLD to a landslide victory in Myanmar's first openly contested election for 25 years.
The constitution forbids her from becoming president because she has children who are foreign nationals but the 75-year old was seen as de facto leader.
In recent years, her leadership has been defined by the treatment of the country's mostly Muslim Rohingya minority.
In 2017 hundreds of thousands of Rohingya fled to neighbouring Bangladesh due to an army crackdown sparked by deadly attacks on police stations in Rakhine state.
Ms Suu Kyi's former international supporters accused her of refusing to condemn the military or acknowledge accounts of atrocities.