(FOX NEWS) – Democrats have retained control of the House, Fox News has projected, while the battle for Senate is still up for grabs.
House Speaker Nancy Pelosi will expand her Democratic majority in the House, Fox News' Decision Desk projected shortly after 9 p.m. ET.
In the Senate, control will be decided in just a dozen swing-state races that have been the most costly in history.
Democrats flipped one seat early in the evening in Colorado. The Fox News Decision Desk projected that former Democratic Governor John Hickenlooper will oust Republican Sen. Cory Gardner in the first Senate flip of the night.
Democrats are also going on offense trying to win GOP-held Senate seats in Arizona, Maine, North Carolina, South Carolina, Georiga, Iowa, Montana and more.
Republicans are fighting to hold a slim 53-47 majority in the Senate and think they can flip Democratic-held seats in Alabama and Michigan. Democrats need a net gain of three seats and Joe Biden as president to win back the majority — or four seats if President Trump is reelected.
Political forecasters expect Democrats to cut into the Republicans' 53-seat majority, but it could be a nail-biter in some critical toss-up states to determine whether they win enough races to wrestle back control of the upper chamber for the first time since 2014.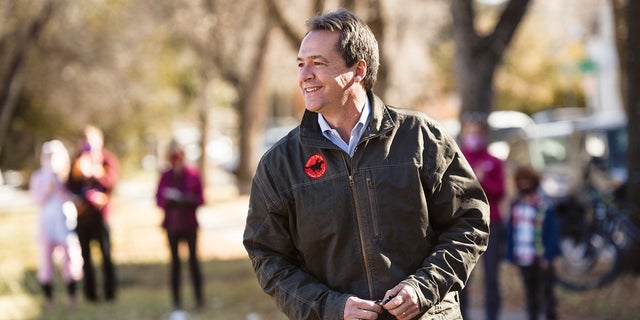 Senate Majority Leader Mitch McConnell, R-Ky., has acknowledged that the GOP majority is on the line, with so many Republicans playing defense this election. Twelve GOP incumbents have competitive races Tuesday, whereas only two Democrats are in jeopardy.
"It's a 50-50 proposition," McConnell said Wednesday of the odds of keeping the Senate red. "We have a lot of exposure. This is a huge Republican class. … There are dogfights all over the country."
McConnell got good news early in the night by winning reelection in his home state of Kentucky, fending off a challenge from Democrat Amy McGrath.
McConnell headed into the election with a big win for Senate Republicans by confirming Amy Coney Barrett to the Supreme Court — the third of Trump's high court nominees — under highly contentious circumstances.
The Cook Political Report projects Democrats will win between two and seven seats. If it's only two, Republicans still are in control. Inside Elections, another nonpartisan election analysis outlet, gives a rosier outlook for Democrats, with a net gain of four to six seats — enough to win the majority. And FiveThirtyEight's election forecasts also found Democrats are favored to win the majority with a 77 in 100 shot.
In the House, Democrats now hold a 233-201 majority (including five vacant seats). The 435th member is outgoing Libertarian Rep. Justin Amash, whose seat in West Michigan is up for grabs between Republican Peter Meijer, an Iraq war veteran whose grandfather started Meijer superstores, and Democrat Hillary Scholten, a former Department of Justice (DOJ) and nonprofit lawyer.
Republicans need a net gain of 17 seats to win back the majority in the House.
The Cook Political Report projects Democrats will have a net gain of between five and 15 seats after the election. Inside Elections projects an even better pickup for Democrats, of 14 to 20 seats. And FiveThirtyEight says Democrats have a 98 in 100 chance of retaining the House majority.